All prices quoted on our website are before shipping and handling.
Personal Checks are accepted, but items will not be shipped until check has cleared.
CASHIER'S CHECKS AND MONEY ORDERS ARE NOT ACCEPTED.
NOTICE: Form has been removed because of ongoing spam.
Please e-mail or telephone with your specifications on your order.
Thanks!
Be sure to check out the link below for my other store for you party, shower supplies.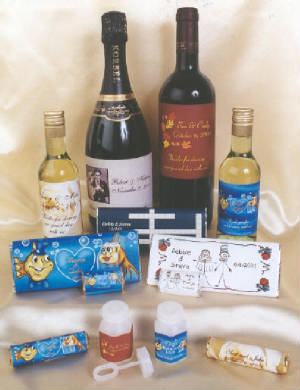 Here is a collage of different labels offered, however, if you have something else you would like a label added to, let us know.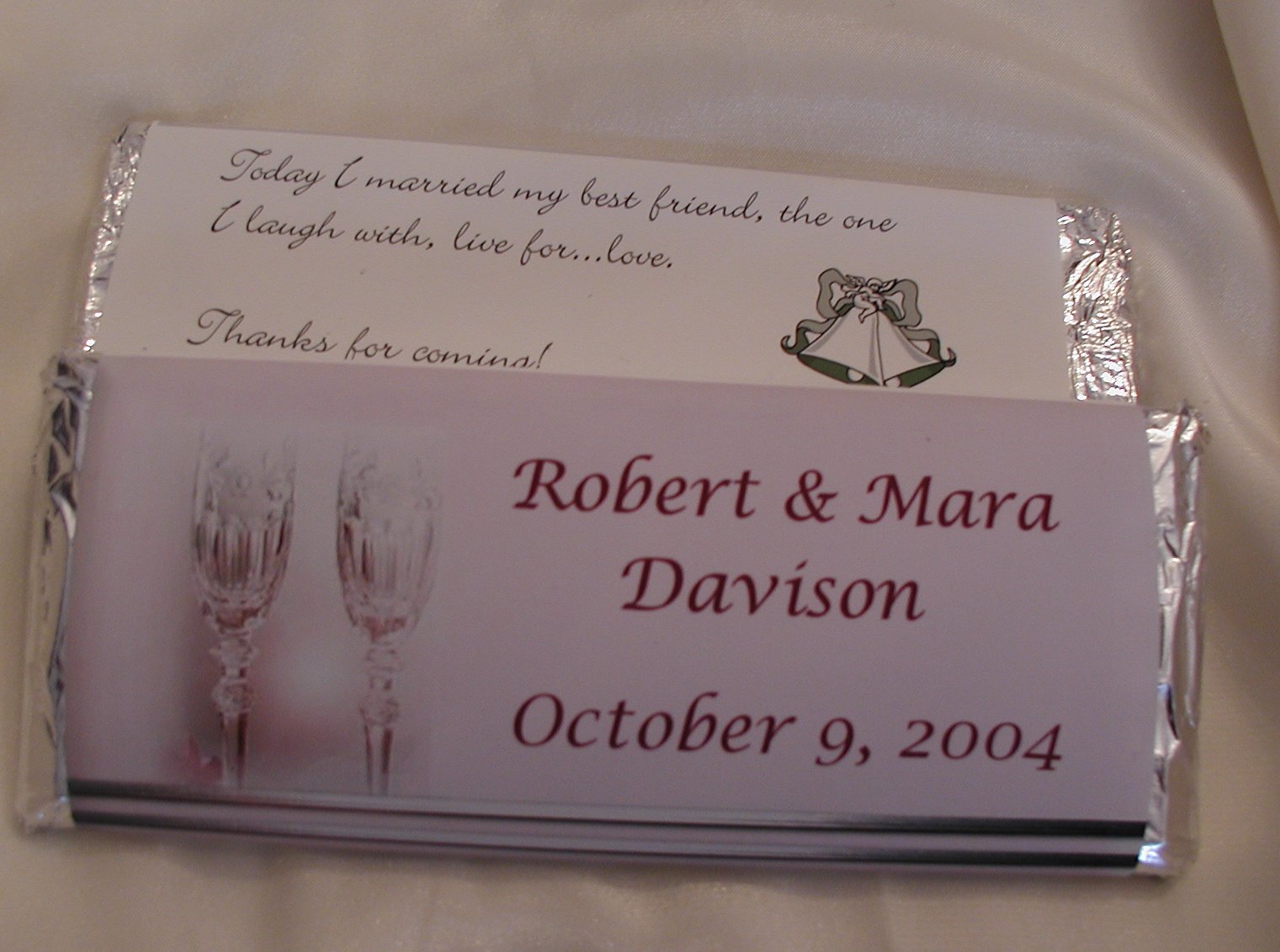 Regular Size Chocolate Bars - with regular edges
$1.25 each
$1.50 each with foil wrap
There is no minimum on these, however, to save on shipping a larger quantity is advised. I will do a flat rate shipping on orders over 12.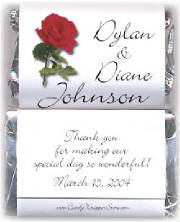 Miniatures - $.35 ea.
(Minimum individual bars - 20)
What a great wedding favor for your guests!
Very popular
Your choice of picture and wording.
I can do most any type picture and wording.
Please send an e-mail with full description of what you want on your candy wrappers.
1 picture can be added at no additional cost.
You may e-mail your picture if you like. If not, you may mail your picture and your picture will be returned with your order.
10% Discount for orders over 100 bars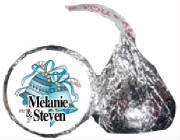 Personalized Kisses - $20.00 per 126 bag
Why not put these in little bags on the tables.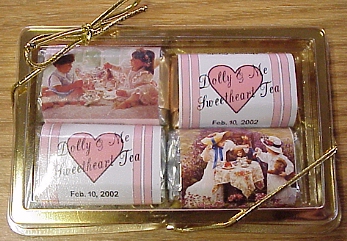 4 Pack - $2.00 ea.
In gold color plastic case.
Your choice of picture and wording.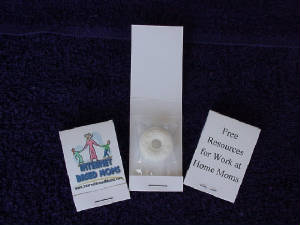 Mint Books - $.35ea. (Minimum 20)
These look like matchbooks, but have a mint inside instead of matches.
Great for wedding keepsakes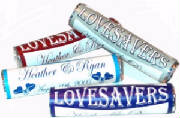 Life Saver Rolls - $.55ea.
Please indicate what you want printed on the roll and color desired.
(Minimum of 20)
CHOCOLATE ROSES
Perfect keepsakes for the wedding guests.
A tag will be attached reading:
Kisses from the Mr. & Mrs.
$1.00 ea. (Minimum 1 doz.) Orders for over 36 will be flat rate shipping .
10% discount for orders over 24.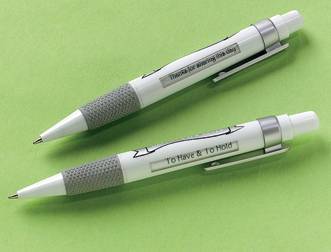 Wedding Greeting Pens
Wedding guests will get a new greeting with every click of this pen! Each plastic pen has 6 assorted greetings including "Today I marry my best friend", "To Have & To Hold", "To Love, To Honor, To Cherish", "From this day forward. . ." and "Thanks for sharing this day". 5 1/2".
$l.00 ea.
(Minimum of 6)
Flower Girl Necklace and Bracelet Set.
Shown in Pearl, but can be made in any color bead.
$8.00 ea.
Please e-mail size and color desired.
Poem reads:
As we celebrate our wedding day
Your presence means so much
A flower girl makes the day complete
She adds a special touch

This beautiful little necklace
And this lovely bracelet too
Is for someone very important
A special flower girl Like you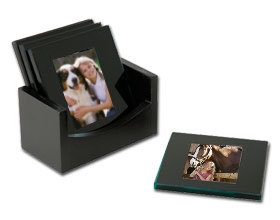 Glass Coasters w/Holder
Each coaster features high quality beveled glass screened with a black border and each has soft non-skid pads. The four piece set includes a solid wood centerpiece holder for handy storage.
$10.00 per set of 4
Put a picture of the couple in one of these snow globes. Great as gifts for the guests.
$6.00 ea.
Insulated Mugs: Only - $5.00ea.
$7.00 with matching candy with wrappers
(8 pieces of candy per mug)
( Miniatures)
How about a Picture or Theme Mug with matching candy wrappers?
Flat Rate Shipping for orders of 6 and over.
Click the button below for mug with candy.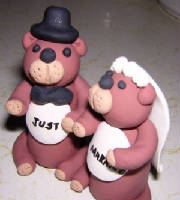 Bride and Groom Bears
100% Handmade by myself
$10.00 (Set)
Can be personalized.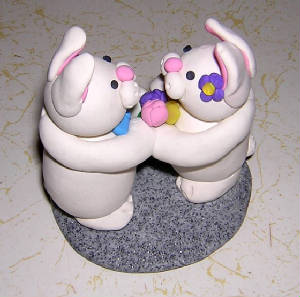 Two Love Bunnies
Approximately 3" High
$10.00
Can be personalized.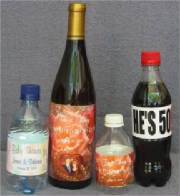 Just let us know what you want on the label.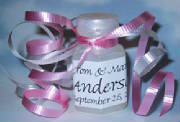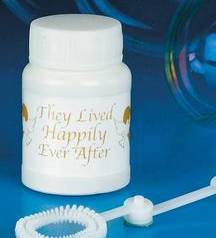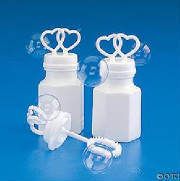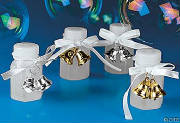 Personalized Wedding Bubbles
Please indicate information for bubbles.
Your Choice of Design. $12.00 for 24.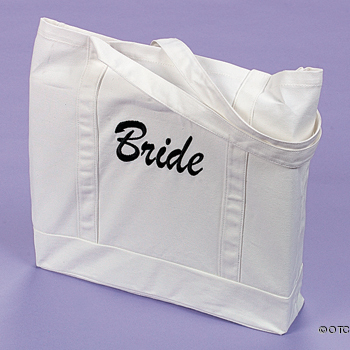 Canvas "Bride" Tote Bag. With black embroidery. 16" x 3 1/4" x 11 1/2" with 6" handles.
$10.00 ea.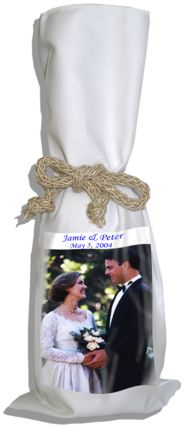 Wine Bag
It is the perfect gift bag because it can be personalized. Fits standard wine bottles and more! Comes complete with braided cord for closing.
$10.00 ea.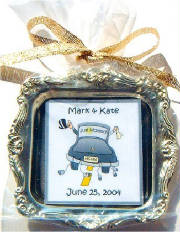 A one of a kind wedding favor find! What a great pair - A Designer Magnet on a 3" Mini Serving Tray. As if that wasn't enough, it gets even better: A variety of designs to choose from, TWO lines, custom imprinted with the names and wedding date of the bride and groom, and FREE cellophane packaging and coordinating ribbon! Choose from gold or silver (metallic looking plastic)
$4.00 ea.
*Mini Serving Tray is not magnetic.

Candy Filled Champagne Bottles - $3.00 ea.
Large 8" tall and 2 1/2" in diameter.
Your Choice of Candy or Label. Perfect for any
Occassion. Birthday, Baby, Retirement, Wedding.
Flat Rate Shipping on 6 or more.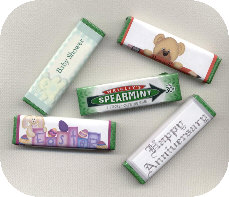 Gum Wrappers (Individual Sticks)- $.25ea. (Minimum of 25)
Great for Party Favors or Favors for the guests.
Your choice of gum
Gum 5 Pack - $1.00 ea.
Minimum of 5
ROUND MINT TIN

Put your favorite picture or phrase on this tin. Candy included
$3.00 ea.
Or can be made into a gel candle if you prefer
Great keepsakes for your guests.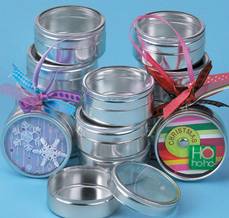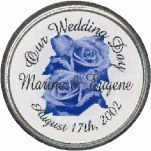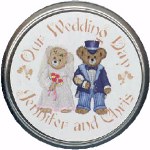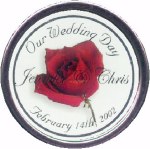 CD Wallet - $5.00ea.

Put your favorite picture memories on a CD

and add corresponding picture
Heart Snow Globe - $7.00Ea.
Housewarming/Wedding Gift Towel Cake
This would make a great housewarming or wedding gift.
Contains : 4 dish towels, 2 pot holders,
4 dish cloths and a variety of kitchen gadgets.
Styles will vary depending on availability. Also, cake will be wrapped in cellophane with a bow.
$25.00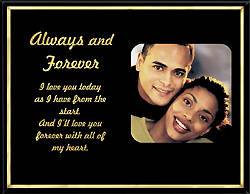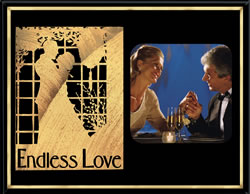 Beautiful Gold Trimmed Frames
A great way to remember the Special Day!
$5.00 ea.
Picture Cloth Placemats for Any Occasion
$5.00 ea.
Please indicate your specifications with order.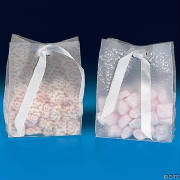 3" x 2" x 4" Vellum Wedding Favor Bags.
Each with a ribbon tie. - $6.95 (4 Doz.)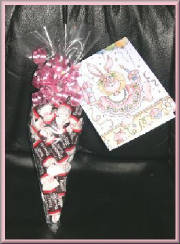 Candy filled cones. Most Any type candy may be added.
$3.00 ea. Please specify type of candy.
Add $.50 for card to be attached.
Please indicate what type of card needed.
Use the button above for Cone with card
GEL CANDLES FOR ANY OCCASSION
Please send e-mail with what type of candle you are looking for. You may purchase the pictured candles or, I can custom make one for you.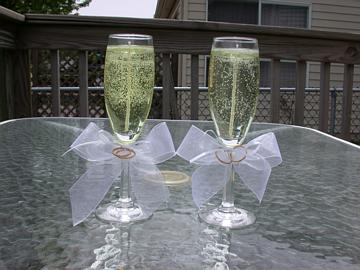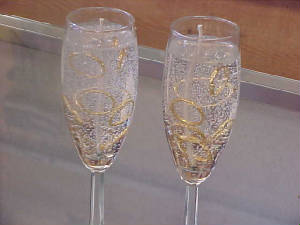 Champagne Flute - $4.00 each
Wouldn't these look pretty on each side of the wedding cake or in the middle of the tables.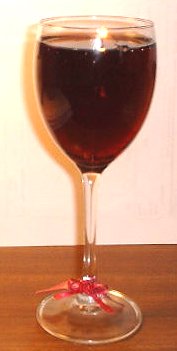 Wine - $5.00 each
Wine Scented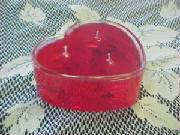 Heart Gel Candle - $5.00ea.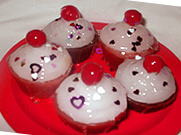 Valentine Cupcake Candles - $2.00 ea.
The wick is under the cherry.
These would look great on the reception table at each place setting.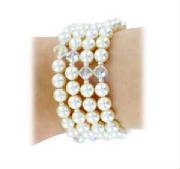 Glass Pearl and Crystal Memory Bracelet - $10.00 ea.
Perfect for the Bride or Bride's Maids.
PHOTO BRACELETS ARE HERE!
Available in three styles: 1, 3 or 6 picture bracelets.
What a great gift for the Bridemaids!
Gift Certificate (SAMPLE)

To:_______________

From:_____________

Expires 30 days from date of purchase
May be purchased in $5.00 increments
Shipping will be added to purchase price
Send an e-mail or fill out form for specifications.
Great gift for the Bride Maids .